Monday, October 31, 2005
Halloween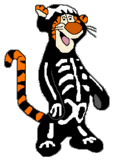 --------------------------------------------------------------------
Sunday, October 30, 2005
I am a shot pro!

The lupron shots have been going well......only s/e so far is hot flashes....whew, do i ever get hot!!
I have become a pro at these shots, they are very easy......last night in the middle of a domino game, i ran upstairs, swabbed my belly, took out the syringe, filled in, gave myself shot......well under 2minutes!! Only 2 more days of BCP!! yeah, hate taking those (think it is just a mental issue). Talked to the Bank guys on thursday, our funds should be here sometime this week.....yeah!! will be such a relief knowing that we are going to be able to pay for all of this!!
November is going to be quite a ride.......I am ready!!
--------------------------------------------------------------------
Thursday, October 27, 2005
It's really starting now.......
OK, I feel like today is really the starting point for the IVF cycle! Daily shots, meds.......it all starts with today!! In 6 short weeks.....we should know if this worked or not.......I am going to try and stay positive but there is a part of me that needs to be prepared for a let down. I am so happy that Preg.org has started an IVF BB......the girls on there have been wonderful and all of us are in different stages of the process......so I have about 3 girls ahead of me and about 5 behind me in the process! The girls ahead of me are paving the way.....helping me to know what to expect during every aspect of the process, side effects, etc..
--------------------------------------------------------------------
Tuesday, October 25, 2005
3!
Today is our 3rd wedding anniversary!! Wow, how things have changed over the past 3 yrs!! We had no clue that we would suffer from infertility when we got married.....although by the time we had gotten married, we had been already TTC for a few months before hand. It was just a few short months after our wedding that I sought out help with TTC from an RE........thank goodness we did, cuz now we have that wonderful little guy in our lives!!
Well here is to 50+ more years of happiness!!!
--------------------------------------------------------------------
Monday, October 24, 2005
irony
I think it is so strange (ironic) that at night I take 2 pills.......a birth control pill and a prenatal vitamin!! it is a little hard for the mind to take in!!! But looking at the big picture......this wont matter!! I take my last antibiotic today! (dont like those, yuck) and only a few more days until I start the lupron shots. I bought my baby aspirin today!! Man starting thursday, I am going to be quite a drug taker!! BCP,baby aspirin, lupron shots, dexamethasone and prenatal vitamins! I am not sure what side effects the lupron will bring.....but since it tricks your body into thinking you are menopausal....I can only guess the fun it will cause!! (Can you say hot flashes????) LOL!!
--------------------------------------------------------------------
Wednesday, October 19, 2005
THE PLAN
We have a plan!! I am so excited!! First i have to tell about the appt.......we got there right on time, they took us in right away. The nurse did her routine, explaining the procedure,etc....she was done in about 40min. The financial person and embryologist were at a national conference,so they could not meet with us(as per usual consults), so she told us we would just need to meet with doc, then she would give us the dates for everything.........so we waited, and waited, and waited! The nurse was so frustrated, she came back in and had us go draw blood for standard HIV tests, etc. We did that, still no doctor.....so then the nurse came in again and decided to give us our potential cycle dates, she said she was pretty sure of the dates but may have to tweek them a little if doc changed something. Again we waited, an hour later, the doc finally came in!! (Jeff was about to blow a fuse by then!) Anyway, she gave us what she thought of our chances (gave us a 35% chance just based on my age alone, but said i did have a higher chance since i carried two babies already, so she knows i can do it!) The nurse came back in and stated that the dates she gave us were correct.....so now we just had to get some Rx filled and be on our way! I took 5 Rx to the pharmacy........to my suprise, most of them were covered.......including the Lupron (which runs $200 for a 2week kit), the most expensive thing was the z-pac that jeff and i both have to take.......$46 a piece. So total we spend $115 (91 being the zpac). That was awesome news!!
Here is the plan:

cd3 (10/19) start BCP's
cd4 DH and I do Z-pac antibiotics for 5 days
cd11 (10/27) baby-asprin, Dexamethasone and Lupron inject
11/1- stop taking bcp's
11/10~ 1st suppression scan, sonohystogram, trial transfer......MONEY DUE
11/13~ Start stims
11/18~ scan
11/24~ estimated Egg Retrieval
11/29~ estimated Egg transfer
12/7~ Beta!!
So probably doing egg retrieval on Thanksgiving day!! The nurse told us that she hoped we didnt have big plans.........Jeff told her that we were hosting a big dinner and that i was doing all the cooking, the nurse about had a heart attack....she said" YOU CANT DO THAT, YOU WONT BE ABLE TO DO THAT!!" Jeff just laughed and laughed on that one!!! looks like I will be home in bed while jeff takes the kids to visit family! I am to be on bedrest for 2 days!........
--------------------------------------------------------------------
Tuesday, October 18, 2005
woohoo....
Well with AF's arrival yesterday, I called the RE nurse. When the IVF coordinator called me back, she said she would just give me Rx tomorrow at the consult. She said she would be putting my calendar together so we will have our tentative dates set......so exciting!! She told me not to plan on leaving town for thanksgiving......she said "we will be very busy" around then :)
I told DH this morning that AF had arrived yesterday....and asked if we should contact the bank about our home equity.....couldn't believe that he was so positive and said "ok, what do we need? $20,000 be enough?" I said yes, that way we could pay off our credit cards and pay for this cycle too.....we put about $4000 on the cards for the past 2 cycles........ later before he was leaving for work he asked the silliest question....."why didnt chandler and monica do IVF?".......LOL, I told him that Monica had a hostile environment or something like that but that Courtney cox had done IVF in real life to get preggo. Also told him that Brooke Shields had done IVF several times........poor guy really doesnt know what we are getting into, he is for a shock at the consult tomorrow!!
--------------------------------------------------------------------
Monday, October 17, 2005
just waiting
AF has decided to toy with me a little.....has not shown up yet. I did have a huge temp dip today so I am sure it will be here by tomorrow....
update: AF has arrived, today is cd1....so here we go!!!
--------------------------------------------------------------------
Friday, October 14, 2005
Our journey continues.......
Under some "pee" pressure from my wonderful online buddies, I tested this morning......of course it was a BFN(big fat negative). I was so nervous to test, I waited almost 2 hours before the first time I woke up and had to go to the bathroom (5:30am), but I stayed in bed until about 7:30....crying on the way to go to bathroom, my DH gave me a kiss and told me to smile when I pee!! (LOL)......well of course just the dreaded one line came up. So it looks like we will have to take the IVF journey after all........I dont think I have ever been so scared! So now I just have to wait for AF to show, so that I can have my BCP's called in.
--------------------------------------------------------------------
Wednesday, October 12, 2005
Well, I thought maybe I should do an update, but ya know.....absolutely nothing is going on!! AF is due this weekend (sunday or monday at latest). I have been gearing up for IVF.....trying to prepare myself, all along having the smallest bit of hope that we wont have to go down that road. But in all honesty, my heart is telling me that the IUI didnt work and it is time to move on. I will do a hpt later in the week if for some reason my temps stay high, but if they start heading south as usual, I will not waste the test!
Here is the link to my chart to see my temps....
http://www.fertilityfriend.com/home/1509d
--------------------------------------------------------------------
Monday, October 10, 2005
The center of my universe.....
Here is Mason at the pumpkin patch.......his smile makes my day!
--------------------------------------------------------------------
Friday, October 07, 2005
halfway through
Well I am about half-way through the 2ww......it is amazing how calm I have been. I am usually obsessing but since I am pretty sure it didnt work, I have made peace with that, and am really more anxious for October 19th to get here for our consult. I went in this morning for my progesterone test......the results should be back this afternoon. We are going out of town for the weekend, to visit the in-laws......usually pretty boring, but at least we are getting away. There is absolutely nothing to do in the little town they live in.......(well except to go to Walmart).
UPDATE: progesterone levels on 6dpo are 25!! ( they want over 10)
--------------------------------------------------------------------
Tuesday, October 04, 2005
Looking towards future......
I went ahead and made the appt today for IVF consult. It will be on Oct 19th. It seems that there is some national RE conference that week and the office is down to bare bones....but they said we could do it anyway. AF is due around 10/16, so if by some miracle I am pregnant then we will go ahead and cancel, if not, I can start BCP's and have the consult. Jeff and I took a nice walk last night and discussed it a little.....he doesnt see the need for a consult because he thinks I have read so many books on it that I know more than the nurses.....but i assured him that the consult is necessary, they wont let us proceed with out it.
--------------------------------------------------------------------
Monday, October 03, 2005
Message from God?
Well I was feeling quite numb after the IUI experience on Saturday, I wanted to feel sad, but I couldn't cry....I decided that things were just not meant to be. Maybe it was a sign that I should just be happy with the 2 wonderful children I have, maybe we werent meant to have another...maybe we were just waisting time and money. I truly felt that God was putting me through some sort of test....well later in the day, I went to the mailbox and in it were 2 items:
1) a book that I won at a Preg.org chat over a month ago, titled.....
INFERTILITY ( a survival guide)
(so long ago that I forgot about it!)
2) a loving
"thinking of you"
card from a sweet older lady who I told my story to over a week ago, just wanted to let me know that I was in her prayers and she hoped the fertility treatments worked for us... this woman barely knows me, she has met me 2x in my new womens group.
Guess I should take this as some sort of sign to not lose faith......if not this time, it will happen. After receiving these two items, a sense of peace literally swept over me.......I am more at peace and know that God will bring us down the right path.....I just wish he provided instructions and a map!!! I am not going to obsess this next few weeks like normal........whatever will be, will be.....
--------------------------------------------------------------------
Saturday, October 01, 2005
IUI #2
With only 1 fat folly and Jeff's very low sperm count today, cant say that I am very positive. The nurse tried to be nice and positive, saying "it has happened before with this low of count" but at the same time, her and I talked realistically about the next cycle....she thinks that the doc will encourage us to do the IVF instead of more IUI's. With the sperm count being as low as it is, it just make sense to do IVF with ICSI (injecting sperm directly into egg). I told her that I had already spoken to Brandi, the IVF coordinator and that I would be contacting her about doing the consult. DH of course is stubborn in the fact he doesnt want to proceed with "plan-making" until we know for sure that this didnt work. So the 2ww begins........
--------------------------------------------------------------------