Tuesday, January 31, 2006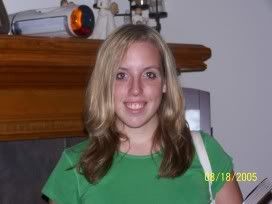 Today my baby turns 15 yrs old. Where has the time gone?? We celebrated her birthday over the weekend, ate at The Cheesecake Factory on the Plaza. It was a nice dinner, and very yummy cheesecake!! Alexis has been having problems with her ipod mini, so while we were on the Plaza, we went to the Apple store.....glad we did!! Her warranty had only 2 days left, they ran their own battery test,it failed......so they replaced her ipod with a brand new one!!!!! So anyone that has an ipod, if it starts acting up, take it to Apple, they are awesome!! I gave her a new camera phone for her birthday.....it was a big hit. She has been wanting to upgrade her phone for the past couple of months, but because she has only had it 1 yr, she was not eligible for an upgrade yet.....so I found a new phone on EBAY! It is a cool little phone that takes photos and video! I need to go get a few small things so that she will be able to open something tonight. She is very excited for our upcoming trip to California....I figure in a few years she wont want to go on family trips with us....so I am glad we decided to take this trip!
--------------------------------------------------------------------
Saturday, January 28, 2006
A very needed vacation!

Woohoo! We have decided to take a family vacation over spring break!!! We have not been on a real vacation for a very long time! We are going to Cali! Gonna visit the cousins and do some tourist stuff!! Very excited to see my cousins! It's been about 9 yrs since the last trip to LA (alexis was in kindergarten!!!). I last saw Amanda on her 21st birthday in Las vegas about 6 yrs ago! Long overdue!! It will be nice to spend some time as a family! So watch out LA~ the Jones are comin!!
--------------------------------------------------------------------
Friday, January 20, 2006
Latest update
First off~ only 11 days until my "baby" turns 15 yrs old!!! YOWZA!! We now find ourselves talking about buying cars, dating and teenage partying....I am really hoping some of my past behaviors do not come back to bite me in the ASS!! We are very open and honest with my girl and hoping that she chooses to make wiser decisions than either Jeff or I did!! Present alert~ not very good around here....I have a few ideas but will have to see how they pan out.
On the TTC front~ Jeff and I attended a wonderful seminar last night to learn more about IVF with donor eggs (they also talked about donor sperm options and gestational host options)...we really liked what we heard and even got ourselves all worked up about going through with it. It seems there is a wait for anonymous donors and also there are some options that we need to discuss. 1) being they offer "shared" cycles for about 12,500....that is where 2 couples share one donors eggs, there for splitting the cost. But because stimming is not always predictible, they ask for one party to be "primary" and one party to be "secondary"...so that in the case that only 7-9 eggs are retrieved. the "primary" would get all of the eggs and pay the full price of $20k for the cycle. They prefer to have at least 5 eggs for each donor to ensure a better success rate. 2) option would be to pay the $20k for the cycle and not share with anyone. 3) is to bring in your own donor for about $14k......So we will be discussing all of these options. We are hoping to have a "plan" in place before my birthday in April....that is our goal! We should know more about our finances by then and be able to make some decisions! One thing we did decide is that we want to try to do this before heading down the adoption route....as of now anyways!
--------------------------------------------------------------------
Friday, January 13, 2006

I am starting to wonder where our journey will take us.....I have been doing a lot of research on adoptions from China on the internet. There is so much information out there, that it is almost too overwhelming. I looked at a lot of websites,with a lot of information about foreign and domestic adoptions. China seemed to be the best fit for us (for foreign adoptions), they have mostly infant girls.....I would love to have another girl! Although I have been researching this, I am not 100% committed to adoption at this point, I still would love to be pregnant and have a precious newborn of our own. With Chinese adoption, the babies are several months old when you get them, which would be ok, but I would really miss the infant stages! With domestic adoptions, it is pretty scary because although you can get the baby directly after birth, the birth mom can change her mind, that is so scary to think about. By coincidence last night, I was at a "mom's only activity" with my MOPS group and met a woman who has a 3yr old that she adopted from China! I was shocked when she said that during introductions, since I had spent so much of my day researching chinese adoption!(makes me wonder if God is trying to tell me something). This woman gave me her information and stated that I could call or email her anytime with questions, will be nice to talk to someone who went through it. I also plan on speaking with our neighbor who recently adopted a newborn domestically. I would really like to know how long it took to find a birth mom, how much it cost, etc... The only thing that I am starting to be sure of right now is that I am positive that we will have another baby... somehow or someway! Having options has made a world of difference for me! Hope is a wonderful thing!
--------------------------------------------------------------------
Tuesday, January 10, 2006
Baby steps

Taking some "baby" steps (pardon the pun)LOL...we registered for a seminar at our fertility clinic. The subject:
TTC through 3rd party, IE: donor egg/sperm programs
. The seminar is scheduled for 1/19/06. I hope enough people register so that it is not cancelled, I am very interested in getting more information on this. I am encouraged that Jeff so readily agreed to attend. We have been avoiding the whole TTC conversations at this point, mostly because we cant do anything until we figure out the financial situation. I should have some more information in February on my lawsuit money...hoping it will come in fairly quickly after this latest delay.
Here is some info on this... Back in 2000, I took some medication for anxiety/depression due to the stress of my job, etc....after only 2 months on the medication. I became increasingly ill, slept all of the time and turned jaundice (not an attractive look). Took a long time for the docs to figure out that the medication was damaging my liver, rapidly. I had a biopsy of the liver done in 3/00 and they determined that 40% of my liver had been damaged. If I had been on the medication any longer than i was, I would have needed a transplant. Luckily for me, they caught it in time and I fully recovered by just stopping the medication. Right after this, i went to a lawyer who told me that I didnt have a case, so I went on with my life as usual. In 2002, I read that a class action suit was going on with this medication, so for the past 3-4 yrs I have been turning in paperwork, waiting, turning in more paperwork and more waiting. Finally in early 2004,I was notified that the drug company decided to make a settlement (instead of going to trial). 2005 was a whirlwind of more paperwork and crucial deadlines. In November 2005, we were told to expect our $$ by the end of year, then in December we received a letter stating that the courts had expanded a deadline to Jan 31st, 2006 for some others to get in their paperwork...So now I am hoping that in early spring we will have our money and that we can get on with our lives....and be able to finance our family expansion.
--------------------------------------------------------------------
Friday, January 06, 2006
2006

I wonder what the new year will bring? I never imagined in January 2005, that we would have done IVF by the time the year was over...It was in January that Jeff and I decided "to try again" for another baby...It took us 6months of "trying" before going to the specialist..Here we are a year later, $18k in debt and no baby...hmmm.
We havent talked much about what our plans are for the year...I still have the strong urge of wanting another baby...although most family members and some friends have given the "well you do have 2 beautiful children already"speech. I know that I have 2 great kids, just feel that one more is what will complete our family. Most of my friends and family got to make the decision about "we are done, our family is now complete." We dont feel that our's is complete yet....so I am holding onto some hope that somehow, someway we will be blessed with another child, either through biology or adoption...
New Year's resolutions? well I of course have the #1 favorite of most people, to lose weight....50lbs less would be nice.
I have also resolved to strengthen my spriritual being.... I have been lax(is that a word?) in attending church, so I am planning on attending church more and have signed up to do a mom's bible study. My church offers daily mass during the week (m,w & f mornings) so I attempted to attend this morning...not easy with a 22 mos old btw...the people who attend the daily masses are usually the elderly, I was the only "young" person there and mason was the only child...he has a knack of being loud during silent moments...oops! I apologized to the women beside me after mass and she said she didnt mind, "nice seeing young folk here during the week"..so Mason and I will try again to attend on Monday. Of course, we will attend weekend Mass also, hoping to get the whole family to church...
Wishing only the best for all of my friends and family in 2006!
Praying that my younger brother will stay safe and healthy while serving in Iraq this year..
--------------------------------------------------------------------