Monday, February 27, 2006

Made our consultation appt to inquire about our next IVF cycle. It is scheduled for March 27th!!
--------------------------------------------------------------------
Friday, February 24, 2006
Breakthrough?

I am not sure what came over me last night but I finally blurted out to Jeff that I want to start trying again.....NOW!! I have been having the urge for awhile now and have just mentioned in passing to Jeff that I wish we could start again. But last night, I asked him what his feelings are on the whole thing. He says "Well, I definetly want to do it again" but he is worried about the $$$. We both really wish we would hear about the lawsuit money (ARGH!!!) I have been conflicted about everything....do we try again ourselves, do we do the donor egg IVF (60% chance of success) or is adoption our future?? Jeff isnt really on the adoption train yet, but is open to it....he doesnt really believe that me meeting 2 women with adopted chinese children is a sign.
Today I am trying to be proactive. I have called the lawyers office (left message), I have called our IVF clinic and left message for the donor egg coordinator. I have no idea what kind of timeline is involved in the process of finding a match.
Jeff would like for us to try an injectible IUI cycle again in April...it would cost about $900 and I think he knows that this will ease my "urge" because we will be activily trying. but honestly, I dont think we have a chance doing that.....
All I know is that I am starting the process.....maybe even tandomly. I also ordered certified copies of our marriage license and birth certificates ( just in case we head down the adoption path).
--------------------------------------------------------------------
Tuesday, February 21, 2006

--------------------------------------------------------------------
Monday, February 20, 2006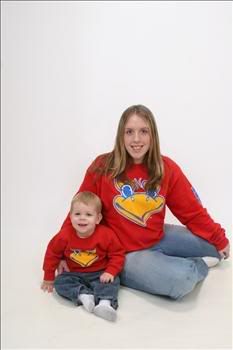 How cute are my kids???? Hee! Had Mason's 2 yr pics taken today and got a pic of both of them for the first time.

--------------------------------------------------------------------
Friday, February 17, 2006
mini-vacation
Going on a mini-vacation this weekend, if you can call it that.....Alexis has a volleyball tournament in Topeka, KS.....about 2 hours or more from our home. It is a 2-day tournament so we will have to stay all weekend. Leaving sometime late afternoon or early evening tonight. Although it would save us money, I dont want to be up and driving tomorrow at 4:30am!!! I have no idea how Mason will handle the weekend, we will probably regret not having Mom watch him, she offered. I went and bought a portable DVD player for him today, so he wont go through Blue's Clues withdrawal (LOL)...actually was planning on buying one for our plane ride next month but decided to get it for this trip too. It will occupy some of his time in between games (or during games). Yes, I am a bad parent, my child loves to watch TV. He is absolutely in love with Blues Clues and will sit down for those 20 or so minutes to watch it. He also has a favortie Baby Einstien video that he asks to watch. He is also "ball" obsessed, he loves to throw balls. Footballs, rubber balls, baseballs, any kind of ball he can get his hands on.....but that will not work in the middle of a volleyball tournament...He got a Little Tikes basketball goal for Christmas and he has gotten really good at making baskets...we actually raised the goal this week because he has gotten so good.
On the TTC front~ no news. We havent heard anymore about the lawsuit money yet. A status conference was court ordered for 2/15...but they havent posted an update yet. We have paid down a lot of our debt...we actually have enough credit that we could do another IVF cycle if we wanted but that would shoot our debt right back up and I have been overcome with fear that it wouldnt work again. I guess that Jeff and I really need to talk about what we want to do. I am going baby-crazy again....I dream about them, I watch Discovery health all of the time and I crave holding a little baby in my arms. It started this week. I went to my MOPS meeting this week and there were so many little babies there....I almost started crying right there. I thought I was over that, but I guess not. Although, I might have 3 babies to hold soon, My SIL had her IVF last week and they transferred 3 embies!! If they all take, I will be having triplet nieces/nephews!!! We find out if the IVF worked next week, and then probably 2 wks after that how many are in there!!!

--------------------------------------------------------------------
Wednesday, February 15, 2006
woohoo
3lbs lost!!! 17lbs to go until 1st weightloss goal met!! Been going to the gym every morning at 6am!! I am very proud of myself...I figure if I put it down in writing, I will be more inspired to keep working on it!!
--------------------------------------------------------------------
Tuesday, February 14, 2006
Wishing everyone a wonderful Love-filled day!!
--------------------------------------------------------------------
Monday, February 13, 2006

Taking some action! Sometimes I feel like all I ever do is whine...reading some of my posts, it is obvious that I do spend a great deal of time whining. Sorry about that... For the year 2006, I have tried to take some action, instead of just complaining all of the time. My resolutions this year were these:
1) Get more spiritual~ improve my relationship with God
2) Get physical(insert Olivia Newton-John song here)~Lose 50lbs in 2006
3) Improve my relationships in general with family, friends and self.
Well I started off slowly, but am making some progress. In order to improve my spirituality, I have started going back to church. I originally tried to attend daily mass as well as weekends, but that only lasted a few sessions! I have been successful in attending weekly mass on a regular basis. I also joined a Mom's bible study~ this has been not so successful but will hopefully improve in the future. The bible study meets on the 2nd and 4th Wednesday's of the month. It has met for a total of 3x....I have made it to .75 of a meeting. Meeting #1~ took Mason into daycare carrying a piece of granola bar.....5 minutes after being in the bible study, I was called out, daycare stating he "threw-up" and cannot stay. Well actually he gagged himself on the granola bar and was fine, but whatever. Meeting #2~ Mason actually had the flu, we were home with fever. Meeting #3~ took Mason into daycare, 1 hour later, Mason brought to me, stating he had been crying the entire time and they felt he needed his mommy. Mason had a cold and was extremely clingy with me all that week....argh. So like I said before...hoping things will improve during sessions 4-10! On another note~ Jeff and Mason attended church with me on Saturday evening ( better luck getting DH to attend on saturday eve vs sunday morning).
Now onto the "getting physical" part....that has been a very slow start...but as of last thursday, I have worked out 3x in 5 days! I received a 10 day pass to one of the local gyms ( women only kind)and decided to get my butt up there and check it out. I went when Alexis got home from school on the first 2 days, but I felt somewhat guilty, and then had to get home to make dinner.....so this morning I got my big ole butt out of bed at 5:45am and made it to the gym at 6:05am! Returning home around 7am...just in time for Mason to wake up! That actually felt good! I couldnt believe all that I had already accomplished in the day before 7am!! and on a monday!! woohoo~ lets hope that I can keep this up!! Now for the yucky part......$$$, trying to decide if I should join the gym...of course the best deal is if you pay for 2 yrs in advance....but heck, i have only worked out 3x in 5 days....am I really ready for that kind of commitment??? or is it better to pay the $$ each month, as a reminder that My Ass better be getting smaller as that money comes out of the bank....hmmmm....well I have 5 more days on my pass to figure all of that out!
Goal#1~ lose 20lbs by May 1st
Lastly but not the least~ improving relationships. I honestly dont think i have done anything on this resolution yet. I think that if I start working on myself, then I will be a much better friend, spouse and mother.
--------------------------------------------------------------------
Monday, February 06, 2006

February already! Man~ January flew by...that is good I guess, one month down. We had an unusually warm January, it was wonderful but now the weather realized it is actually winter and the cold is back!! Now that Alexis' birthday is over,it is time to count down until Mason turns 2!!! The same week that Mason has his birthday, we will be leaving on our vacation....so it is a double exciting countdown! woohoo!
I am getting very antsy about having a TTC plan....I dont like sitting on the sidelines...argh!! Unfortunately, I have no choice but to sit back and wait....it still all comes down to one thing....$$$$$$. We already did our taxes and got them back. We were fortunate to get a decent amount back,that money going to our home equity loan...the more debt we get rid of, the better it will be and the quicker we can try again. Jeff was told he would get a nice bonus in January ( he was told this before christmas, when he got his end of year bonus)but I think his boss forgot or something (small company, both bosses lost inlaws during the month of january,so mind has been on other things)We have not seen his bonus, nor has my husband asked about it....wish he would, was planning on putting that money to our debt also. Oh well!!
--------------------------------------------------------------------