Wednesday, May 31, 2006
Prayer works!

Today there was a visible baby and a heartbeat!! the heart rate is 166bpm!! We are thrilled!! We have a follow up u/s next week.....this will be a much easier one to wait out!!!!! The baby was measuring at 7w6d...which is almost perfect!
thanks for all of your prayers.....they worked!
--------------------------------------------------------------------
Tuesday, May 30, 2006
24 more hours of hell........
This has been the longest 8 days of my life.....and I have one more to go. there hasnt been a minute gone by that I haven't thought about tomorrows u/s.....I have been praying and trying to turn it all over to God....every other breath has been a prayer. I have gotten sick almost every day, yesterday and saturday being the exceptions...everytime I have thrown up my husband says "I am sorry that you have to go through this"...and each time I respond "if my baby is ok, then it is all worth it"... and it is. If the baby is not ok, then it will all have been a cruel joke. I honestly dont know how I am going to make it through today...I am sure there will be no sleeping tonite...we havent really told anyone about this torture. My mom and those close friends who read this blog are the only ones that know anything is going on. Jeff talked to his parents yesterday and didnt tell them a thing except that I have been getting sick. They believe that the sickness means the baby will be a girl. We were in conversations over the weekends with friends who do know our torture but it wasnt spoken about....we were talking about future plans and at least twice the subject of my pregnancy came up(ie..."you will be so big then, so I guess we can't do that") all I could think of is "well,after wednesday, this pregnancy may not "be" anymore".....well this time tomorrow, we will have our answer.
--------------------------------------------------------------------
Wednesday, May 24, 2006
found this info on another site........I have been desperately searching for some hope since my u/s...
At 4 weeks of gestational age (2 weeks post conception), your doctor should only be able to see a thickened uterine stripe.

At 5 weeks of gestational age (3 weeks post conception), the presence of a gestational sac and possibly a yolk sac are seen.

At 6 weeks of gestational age (4 weeks post conception), your doctor should be able to see a gestational sac and a yolk sac. Fifty percent of the time, a fetal pole will be seen with cardiac activity.

At 7 weeks of gestational age (5 weeks post conception), ninety percent of the time, a fetal pole will be seen with cardiac activity.

At 8 weeks of gestational age (6 weeks post conception), your doctor should see all of the previously mentioned structures, including a fetal pole with cardiac activity. The fetal pole should be measuring appropriately for the gestational age and show appropriate interval growth between sonograms.

At 9 weeks of gestational age (7 weeks post conception), your doctor should see all of the previously mentioned structures, along with increased detail in the fetal pole. There should now be evidence of a head, trunk, and extremities.
This gives me alot of hope for next week's sono!! Please pray for our little baby!
--------------------------------------------------------------------
Tuesday, May 23, 2006
Some hope
I have decided to try and be somewhat hopeful but it is very hard. I have been searching the internet for some hope and found some stories stating that they had gone in for u/s and nothing, then the next week everything was ok. My husband is the eternal optimist and believes that we should remain positive until we hear otherwise next week, although I know he was just as crushed as me yesterday. I cried all day, he didnt return to work because he was so worried about me. My body still thinks it's pregnant, I have thrown up my dinner the last 3 nights in a row.
--------------------------------------------------------------------
Monday, May 22, 2006
numb
Well not so good news.....my fear of no heartbeat came true. We had the u/s today and all we saw was the yolk sac. no fetal pole or heartbeat. Today is 6w5day pregnant. We saw a heartbeat with Mason at 6w1d. We are scheduled for another u/s next wed (5/31) but I have already started mourning this pregnancy.
--------------------------------------------------------------------
Monday, May 15, 2006
Home Sweet Home
WHEW~ made it back from Texas! What a weekend! travelling 12 hours in a car is quite a challenge when travelling with a 2 yr old! Mason did very well though....I was pleasantly surprised! Of course, 4 hours into the trip, our portable DVD player lost its video! Not sure what happened but we turned it off while he was napping, and when he woke up, it wouldn't work! He threw a small fit, not understanding why he couldnt watch his movie but I ended up just playing the audio for him and that did the trick. Luckily our hotel was next door to a Target, I was able to return the player and they exchanged it with no problem!! The weather was great.......90 degrees and sunny!! we had fun playing at the pool and spending time at my brothers. Mason played in a plastic swimming pool while at my brothers.....we couldnt get him out of it!
On the baby news~ U/s is scheduled for Monday. I have a huge fear that there will be no heartbeat.....this has happened to a few of my internet buddies and I cant help but worry about it. I also found a new doctor in our town.....I have my 1st appt on May 25th.

--------------------------------------------------------------------
Wednesday, May 10, 2006
5 weeks.......only 35 to go!

LOL!! today I am officially 5 weeks pregnant!! I am still over the moon and still trying to convince myself that it is for real. I had my 2nd beta test on Monday, results were good! HCG=946! Said my numbers were climbing nicely so I didnt need anymore bloodtests. I am scheduled for an U/S on 5/22 to see the heartbeat......I think that will be when I can actually really believe it! 2 days ago, the nausea started....the kind where you think "if I eat, I will feel better"...I have never had "morning sickness" with my other 2 pregnancies, so I doubt I have it this time, but who knows. I am trying to stick to my diet, although I am not restricting my calories....the diet says you can have 1600 calories a day... I am trying to keep it around 2000....hopefully I wont gain my normal 50lbs during this pregnancy! Unfortunately, I just read that weightgain during pregnancy is usually a genetic thing...so there are those cute little preggos who struggle to gain 15lbs during the 9 months and there is me.....oh well, i dont care at this point...just want a healthy baby!! I have not found a new ob/gyn yet.....I really hate having to get a new one, I love my doc, but now that we have moved, I have to find someone nearer to us. Oh, I forgot to mention the due date: January 10, 2007!
Other news~ heading down to Texas tomorrow. My lil' bro is home from Iraq for 2 weeks, so Mason and I are driving down with my other brother and his wife for the weekend. Should be interesting....driving 12 hours with Mason!!
--------------------------------------------------------------------
Sunday, May 07, 2006
A post that I never thought I would write...
Since we started our TTC journey over 3 yrs ago, I never stopped "hoping" and praying that by some miracle, we would get pregnant on our own. Every month when I would get AF, I would sadly come out of the bathroom and say "no miracle baby this month" and hug my husband. For the past few months, I have been mourning the fact that I would not be able to have another biological child, but at the same time I have been preparing myself for the fact that I would be able to carry the baby, and he/she would have DH's biology. Every day I have prayed to God, "God,please help us complete our family.....anyway you see fit." Well honestly, I never thought I would be making this post but here it is:
I AM PREGNANT!!!!
We are in total shock!!!! This month, there is a miracle baby! AF was due on Wednesday, she didnt show but I felt rotten and thought she would be arriving anytime. Again, Thursday~ no AF... so after lunch I went upstairs to my bathroom, on the back of my toilet is a full box of tampons, and 1 pregnancy test (left over from several months back)...I decided to use it, cursing the evil pee stick the whole time and telling myself "why are you doing this, why do you torture yourself, it will be negative, like always." But this time as I was staring at it, something strange happened, as the urine ran past the test line, the negative sign(-) became a postive sign (+)!! I sat there in disbelief and then jumped up to get in better light, I had to be seeing things! I stared at it for what seemed forever, then made the call to Jeff...I told him what I had done and that I didnt believe it so I was running to the drugstore to buy more. I did just that...and when i got home, I realized that i didnt have to pee again...."DAMN, I would have to wait!"....so i did, still checking the 1st test to see if I still see the (+), it was strong and still there! Finally I had to pee again and decided to try a digital test, scared to death that the words "not pregnant" would show up and that this was all a cruel joke. But to my amazement...the words we all pray to see showed up "PREGNANT"!!! I called DH and told him the news! Then I sat here trying to figure out what I was supposed to do! Do I call my ob/gyn? Do I call the RE? finally I called my IVF nurse, she had been so nice to me during the IVF, I knew she would know what I should do....after the receptionist finally figured out who I was (there are 3 of us with same name at my clinic and they couldn't figure out why I wanted to talk to the IVF nurse, kept asking me if I was sure i didnt want the donor egg coordinator). I finally got Brandi on the phone, she was in shock when I told her that I had gotten a BFP(big fat positive)..she said I could come in first thing in the am for a beta test!! WOOHOO!! I went in friday morning and later in the day, Brandi called with the news....Congrats, you are definetly pregnant!!! HCG= 234, Progesterone=24...perfect numbers! I go in again on Monday for 2nd beta, then u/s around 5/22!!!
OH Yeah~ on the same day, I went to the mailbox and in it was a profile for our donor egg IVF!!! My name is now off of the list!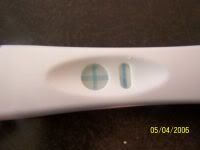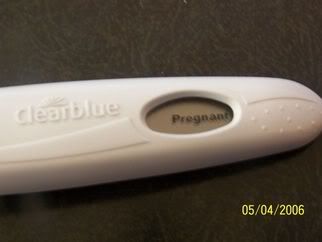 --------------------------------------------------------------------
Friday, May 05, 2006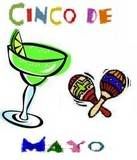 Hope everyone has a wonderful 5th of May!!!!!! Yeah, it's a Friday too!!!! Wish we were celebrating with friends but we will be down south visiting the In-laws!! Someone have a margarita for me!!!!!
--------------------------------------------------------------------