Wednesday, June 28, 2006
U/S #4!
We had our Nuchal translucency scan today......what a great u/s!! the baby was jumping all around!! I could actually tell it was a baby this time! Hands, feet, etc.. I just fell more in love with this baby watching that screen!! Amazing how much the little bean jumps around, yet still can't feel a thing! I am really sad that Jeff didnt join me for this one....he would have loved it!
Doc measured the baby crown to rump (65mm) and the skin on the back of the neck (14mm)....said the measurements were right on (no abnormalcy)!! Also said the baby was measuring 12w6d! I am only 12weeks today!! they took 5 drops of blood (ouch, the finger prick hurt!)they test the blood for 2 different proteins...they plug the results along with baby's measurements and my age into a computer and it will then give a calculation of risk for downs syndrome and 2 other defects. We should have the results next week, but they will only call if something is wrong, otherwise,Dr. V will discuss the results with me at my next prenatal appt.
--------------------------------------------------------------------
Tuesday, June 27, 2006
belly shot

Just thought I would show you my first belly shot........normally I wouldn't "advertise" my fluffiness......but no one can believe how big I have gotten, so fast!! I will be 12weeks tomorrow......Yippee!
--------------------------------------------------------------------
Friday, June 23, 2006
1st OB appt!
Well I had my first appointment today. I met my new male doctor,Dr.V. He is actually very personable :)! I was a little worried at first because the nurse had absolutely no personality....here is our conversation: "Shelley?...turn to your left, step on the scale. Did you leave a urine sample?"
YES
"follow me, sit on table." took my blood pressure "110 over 67, it is fine" "have you had a papsmear recently?"
YES, in April, all my records should be in there.
"undress below the waist, doctor will be in shortly"....um, hello, nice to meet you too. Dr. V is very nice. He said everything looked great and it seems that things are going well. I talked to him about 1st trimester testing (NT scan)and he thought it was a good idea, he will have a nurse arrange an appointment for next week. Learned something new.....no deli meat!!! no Mr. Goodcents, Subway or sandwiches from the deli counter at the grocery store....guess it can carry a bacteria that can cause m/c. Really too bad because I had 2 Mr. Goodcent sandwiches in the past few weeks...and they were soooooooooooooo good! Dr. V also tried to find the heartbeat via doppler but couldnt find it....not unusual for 11weeks....we will hear it for sure next time!!!!!
Next week we will have NT scan/bloodwork on 6/28 (yeah, another u/s!) and hopefully the results will be good (it is an early screen for downs)
My next OB appt is scheduled for 7/19 (15wks).
--------------------------------------------------------------------
Tuesday, June 20, 2006
Growing Pains......
It has just recently hit us that due to the new addition that is coming....we have a lot of changing to do. We will need a bigger vehicle and we need to do some remodeling in our home. We currently have a 3 bedroom home and planned to create a 4th room eventually....Our vehicle only seats 5 people, we will be a family of 5. 2 carseats and a teenager will not do well in our current car, plus we usually have an extra teen or two with us. We started looking at vehicles last night....we were on the fence about what we wanted...DH would like another SUV, I am leaning towards a minivan (the official car of the soccer mom). It is totally amazing how much minivans are geared toward a mom...we had never looked at them before, so this was a new experience for us. The SUV's we looked at really dont work for our situation...in a 7 passenger suv, usually one of the 2nd row seats folds down so that you can access the 3rd row, not something practical when you have 2 carseats strapped in. The minivans have an aisle in the middle of 2 captains chairs so that a few teens can move nicely to the back.... We did suffer from "sticker shock"...couldnt believe that for all the "fun" gadgets and nice accessories a new minivan will cost somewhere between 35-40k! (OUCH!!) Because our teen will be 16 (LORDY,LORDY)soon, we will be keeping both our current vehicles..so we will not have a trade-in to work with....of course after seeing the prices, my darling husband suggested that we not get a new car and he will just follow the rest of us around in our 2nd vehicle if we need to go anywhere...LOL! We have a few months before we make a decision on a car...but we are willing for anyone's input on which minivan is the best out there. Now for the renovations......who knows when that will get started!!!!!!
We are leaning(so far) towards the Honda Odyssey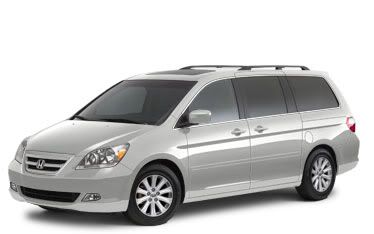 But we liked the Toyota Sienna too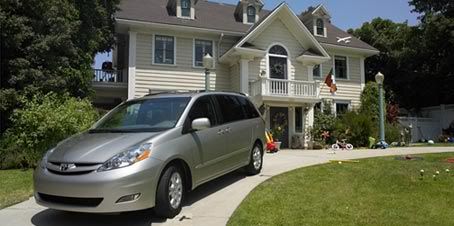 --------------------------------------------------------------------
Friday, June 16, 2006
Interesting.......
Your Linguistic Profile::
60% General American English
20% Upper Midwestern
10% Yankee
5% Dixie
0% Midwestern
--------------------------------------------------------------------
Wednesday, June 14, 2006
10 weeks! (need to come up with better titles, huh?!)
I have been getting a little nervous about not seeing the doctor until my 13th week... so I called the office. At first the receptionist said "that is how it is supposed to be"...then I explained that I am 39yrs old, and that I was not supposed to be able to conceive on our own because of "old eggs" and that I am nervous having to wait so long for my first exam. She said she would grab my chart and have a nurse call me back....I guess I picked the most popular doctor there...she already has her GYN exams scheduled until next October!
ETA: The receptionist finally called me back and they have switched doctors for me so that I can be seen sooner! I have an appt on 6/23/06! Unfortunately, i now have to see a male doctor, but oh well.....hope he is decent!
--------------------------------------------------------------------
Thursday, June 08, 2006
9weeks 1day pregnant
Well appt #1 is complete.....went the RE for our 3rd u/s this morning! The baby is doing great, amazing how much he/she has grown in the past 8days!! The heart was beating @168bpm!! and we even got to see the little bean wiggle around abit!! I have been officially released from the RE's office (pretty funny since they didnt help me get pregnant....) and now I have my 1st OB appt this afternoon. Appt#2 shouldnt be too exciting, just meeting with the OB nurse, I am sure they will do bloodwork, urine tests and get my medical history.
Update on Appt#2~ met with the OB nurse....pretty boring appt. She took some history(things I already provided on the paperwork they sent to my home), took some blood and I peed in a cup. She told me to make an appt with the doc in 2-3 weeks, but the appt desk couldnt get me in until 4 wks....so I will be 13 wks before I see the doctor, ugh!
--------------------------------------------------------------------
Monday, June 05, 2006
Well I wrote a long entry today and it disappeared...so here it goes 2nd time around. Just a little update~ my morning (really evening) sickness seems to have disappeared...I have not been sick in about 3 days! Yippee! I am still exhausted and in bed most nights by 8pm but feeling good!! I am officially wearing maternity clothes...none of my shorts or pants fit me anymore. I have lost 1lb....no weight gain so far! wahoo!
I have my 3rd sonogram on Thursday, this should be our last visit with the RE...I also have my 1st appt with my new OB! I will update again after those appts!!
--------------------------------------------------------------------