Thursday, November 30, 2006
Homebound
Well no shopping today....we have icy roads, school is out and expecting 5-8 inches of snow! I am glad my appt was yesterday! The appt went well, pretty average. Although the doc had a hard time finding the baby's heartbeat....no panicking, just he couldnt find the right spot.....baby was in a funny position (i guess), plus my doctor said he had been delivering babies all night....guess 2 area hospitals were totally full of laboring moms! Baby is doing good.....my belly is now measuring spot on @ 34 wks! 29 days to go!!!!!!
--------------------------------------------------------------------
Wednesday, November 29, 2006
34 weeks........
Cannot believe that I have not posted in 2 whole weeks.....yowza!! Time is starting to fly by and stand still at the same time....I know that sounds crazy but it is true! I have spent the past week trying to get ready for baby, yet it seems nothing has been done....or then again, there is just so much more to do! I have been christmas shopping too....yeah! almost finished......I even wrapped some of what I have bought. Of course, Mason unwrapped a few of the presents under the tree the other morning! So there will be some re-wrapping going on soon! My plan is to finish up (mostly) on Thursday while Mason is at school, but now they are saying we could be getting a big snowstorm.....so it may just be a day to order more stuff online!
I have my dr appt later this afternoon.....I will update afterwards, but I am sure it will be just like last time......in and out without much excitement.
Room update!!!
The sheetrock guy came yesterday.He had the walls and ceiling up in less than 3 hrs! He came back later in the evening and taped & mudded everything.......he will be back this afternoon to sand!! The room actually looks like a room now!!!!
Here is what is going on with Teagan this week:

Your baby now measures about 20.25 inches (45cm) in total length and weighs around 5.5 lbs (2550g). Crown to rump measurement is about 13.2 inches (33cm).
He continues to grow and fatten up, especially in the shoulder area, and kicks regularly.
The fine lanugo hair that covered your baby is shedding, though some may still be present when your baby is born.
Your baby's eyes are blue, though this may change soon after birth or much later after birth.
Your baby's fingernails are growing. They already reach the tips of his fingers and they may even look quite long and pointy by the time he is born. Your baby may even have some scratch marks from scratching his face with his fingernails.
Your baby is probably feeling quite cramped right now and his movements are restricted by his growing size.
--------------------------------------------------------------------
Thursday, November 16, 2006
32weeks!!!
Had my 32 wk appt yesterday...it was a quickie! In and out in less than 20 minutes! Doc says everything looks great......I received my c-section instructions and was told to come back in 2 weeks. The c-section is officially scheduled for 12pm on 12/29!! Wahoo!
--------------------------------------------------------------------
Tuesday, November 14, 2006
Growing family update.....
I haven't posted about this for awhile, but the situation has taken a new turn. A little while ago I posted about us trying to gain custody of my relative's little girl. Court was held on August 28th and the court granted continuance of reunification....meaning that they were giving my relative 6 more months to comply and hopefully get her child back. At the same court date, they did order that we be looked at as an alternate permanent placement incase things didnt work out. I have been in sporadic contact with the current social worker (4th one since July), trying to get him to complete all the necessary steps/paperwork so that our ducks would be in a row by the time they go back to court sometime early next year. Finally about a month ago, he contacted me asking for my address etc for paperwork, then 3 wks later, he called again getting some more info. It is very frustrating because this paperwork should have been done months ago, so that the process can begin. Well, over the weekend I received news that my relative was arrested. I havent been able to get too much info but from what I hear, things are not good. I tried several times to contact the worker yesterday to get info on the baby.....but only got voicemails. My relative's sister then recieved a call from the supervisor of the case....asking about placing the child with their mother....my relative then stated..... "ummm, she passed away 3 years ago...." We have no idea where this guy got this info about trying to place the child with her deceased grandmother....but c'mon people!!! I hate being 1500 miles away, and too pregnant to travel out there to talk to them in person!!! Hopefully I will be able to get some answers today.....at least where they are in the process of doing our homestudy, etc....
The last time I posted about this, my relative read it and felt that I was airing her dirty laundry, I apologize that she feels that way but I feel that this is an important development in my family's life and want to keep my family and friends updated. I only want what is best for the baby girl.....
UPDATE: I have spoken to the supervisor...it seems that our paperwork has not left the State of California at this time, he said hopefully it will this week. This process is a long one, so I do not know how long it will take for Jeff City to process it then send it to our county....also he informed me that the foster parents are wanting to adopt her. He also stated that my relatives adoptive parent called and stated she wanted custody of the child....this is where the confusion about the deceased biological grandmother came from. This is going to be a long wait.....court is in February.
--------------------------------------------------------------------
Friday, November 10, 2006
Is she trying to tell me something?
Well i woke up from a dead sleep last night to
Contractions
! At 3:45am, I decided to pay attention to them and time them. They were coming 4 minutes apart...I got a glass of water and tried not to wake up Jeff.....but he knew something was wrong with the way I was moving around and breathing. The contractions were painful! I made the decision to wait until about 4:30 to call the doctor, since last time they lasted an hour then quit.....well my last contraction happened at 4:29! Luckily my husband had already gone back to sleep (only to wake up 45 min later when I was in the bathroom asking if we needed to go to the hospital..I told him no, i just had to pee since I drank all of that water!!!!) this is a new experience for me, never in my other pregnancies have I had contractions this early...so who knows we may have a baby sooner than 7 wks.
--------------------------------------------------------------------
Wednesday, November 08, 2006
31 weeks!!!
7wks & 2 days until we meet our daughter!!! I got alot of her stuff washed the other day (mostly the towels, blankets, washcloths and burbies) I put them all in a basket inside the pack n play...havent started washing the outfits yet..guess that is my next duty!
I have been having Teagan listen to music through my ipod on my belly for awhile now, but the other night I turned on the christmas music...she went crazy!! she was kicking and movin....think this girl is gonna be like her mom and big sister (we LOVE christmas!)
What's going on with Teagan:
Your baby's total length is 18.9 inches (42cm) and she is perfectly formed! She measures about 11.6 inches (29cm) from crown to rump. All she has to do is fill out more. Your baby weighs almost 4 pounds (1800g). If she were to be born now, she would still need to be incubated as she has insufficient fat stores to keep it warm.

Your baby can distinguish between light and dark.

Your baby can hear the outside world quite well now, and can also hear the sounds of your heartbeat, your digestion and the blood rushing in the umbilical cord. The pitch of women's voices are in the range babies are most able to hear over all the internal background noise. Your baby is already familiar with your voice and will be able to recognize it after birth.
Room update:
We have all 4 walls framed in!!!! Venting work is all done....Jeff just needs to get on the ball about doing the electrical and insulation, so we can get the sheet rock up!
--------------------------------------------------------------------
Monday, November 06, 2006
Explosion of pink!
I had my baby shower on Saturday....it was wonderful. We had a small gathering of family and friends, it was so nice. thanks to my sister in law...she did a great job putting it all together!! Teagan will definetly be "pretty in pink"...all of the stuff is currently in my living room because I dont know where to put it all...I will be washing,and sorting all day today and trying to find a suitable place...Thank you everyone who attended!!!!!!!!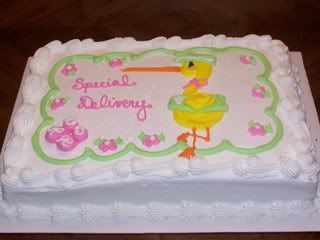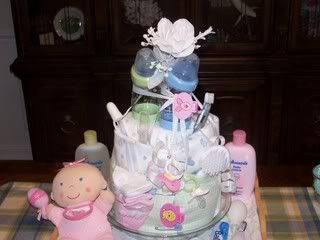 --------------------------------------------------------------------
Wednesday, November 01, 2006
We have a date!!!
Had my 30wk appt today.....everything looks good. I am still measuring 2 weeks ahead, which the doc said is just fine. The doctor scheduled Teagan's birth for December 29th! So exciting to have a date, but very strange to know when the baby will be here!! I have been saying for months that the doctor was leaning towards Dec 29th for the c-section date, so if you want to be there......plan accordingly. None of my kids have come early, but this ones seems a little rebellious.....so we will have to see! Cannot believe our baby will be here in 8wks and 2 days!!!!!!!!!
--------------------------------------------------------------------
My little football player!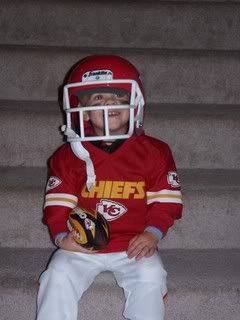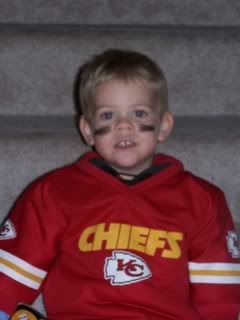 --------------------------------------------------------------------