Thursday, January 31, 2008
It's official, I am old!
I am now the mother of a 17yr old! How did that happen???
Alexis was born on this date, in 1991! wow, that seems like a lifetime ago.....she is excited about her birthday....we surprised her with a new computer already last weekend. Tonight we plan on having dinner with some family and then I think she has a celebration planned for this coming weekend with her friends.
Happy Birthday to my 1st baby!!!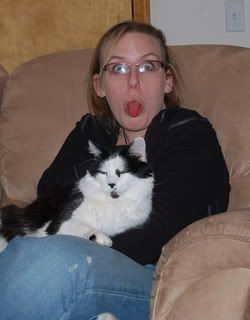 --------------------------------------------------------------------
Wednesday, January 30, 2008
a little late......
Teagan had her 1yr appt yesterday...yeah, on her 13mos birthday. I was late making the appt so we had to wait all month!
Poor girl got 4 shots.......not fun! She was a trooper though. She is growing great, her weight has really slowed down but steady.
Only "concern" is her lack of verbal skills (i.e. amount of words she is supposed to be able to say). Doc was quite surprised when she asked if she was saying "mama & dada".. and my answer was NO. She refuses to say mama (although at 7-8 mos, she used to say it). She really only says "hi" she will say "hi dad" when he comes in from work sometimes and we are pretty sure we have heard random words on occasion such as "grandma" "hi dog" "up".... but we cant get her to repeat them so we aren't really sure. She is not walking yet, but not worried about this one, she is a pro-crawler & has mastered the steps (going up & down). Mason didnt walk until he was 15.5 mos old....and now we cant get him to slow down!
Here are here "1yr" stats:
Ht~ 31.25 inches
Wt~ 22lbs 2oz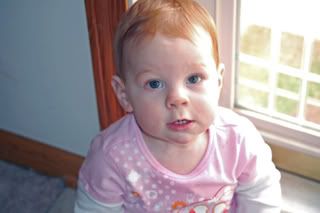 --------------------------------------------------------------------
Wednesday, January 23, 2008
the art of photography
Well I got a new camera (LOVE IT..Nikon D40) and I have a great friend who creates wonderful greeting cards ( www.yourlittlestinker.com ) and beautiful kids....so with the above combo, should be easy to get a nice picture for a valentines day card...right? Well, eventually yes, but here are the pics that didnt make the cut. You will have to wait until Valentines Day to see the one that did!!