Thursday, April 27, 2006
Yippee!
Just a little barge in here to say: I am 2 lbs lighter!!! woohoo!!! I know it is not much but it is just enough to keep me going....the "diet" is hard for me, never realized how much food is a part of my life!!! Weighed in last night, felt good to see the scale move a little to the left for a change!! Well onto Day 4 of dieting!! next week will be better, I can have an extra 400 calories per day....
--------------------------------------------------------------------
Tuesday, April 25, 2006
I am not a very patient person.......it has been 1 month since we were placed on the waiting list, the list that is supposed to take 4 to 6 mos, 3 mos until we can even expect anything....yet I cant help but drive myself crazy! I was given a list of requirements that we needed to have done before we could proceed when it comes time. Annual gyn exam, mammogram and Jeff's genetic testing~ ALL DONE! the only thing that I still need to do is have my gyn doc send over the results to the RE.....that will happen at the end of this week (they need time to have all results in my file). If I was this efficient with the rest of my life, I would be at a decent weight, my house would be clean, and our finances would be in perfect order.......for some reason, I cant apply my efficiency to the other aspects of my life......maybe I need the RE to tell me: You need to lose 50lbs, have a clean house and no debt before we can proceed......hmm, maybe that is the motivation that I need.
I have been trying to lose weight, something that is not very easy for me.......I have been working out 2-3 times a week, walking 2x a week.......and yesterday I started (should I dare say it) a "diet"...it is the curves 6 week diet, (err )life eating plan......hopefully I will have some "progress" to report over the next several weeks.
Alexis starts softball tonight, I like watching her sports...games dont start until end of May. She is a little nervous, she has played softball on the same team since Kindergarten (7 out of 12 girls were from the original k-garten team last year!)This year she is going to be playing on a local team (since we moved last summer), we dont know who is on the team (hopefully she will know someone), we dont know the coach and we dont know the league. I am hoping that it is still a fun season for her. School will be out in just a month......wow! She is going to be pretty busy this summer, so my plans of a babysitter are pretty nil.
Here are her plans for summer:
weights and conditioning Mon-thurs~ 9-11:30
Open gym Mon & Wed 11:30-1pm
Volleyball camp June 12-16~ 12:30-3:30
Drivers Ed starting at end of June 7-9am (mon-fri) for 3 weeks, plus a few afternoons through the week of driving time.
Softball
Plus a few single daytime volleyball camps spread out over the summer.
--------------------------------------------------------------------
Tuesday, April 18, 2006
OUCH!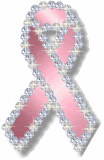 Had my very first mammogram yesterday.....although it was pretty fast, squishing the boobies hurt! The whole thing only took about 10 minutes with about 4min of total squishing...1min at a time. Tech said that the doc would review and send them onto my doctor today. She let me look at one of the pics....it was kind of cool!!!
I called the nurse donor coordinator and let her know that I now have fulfilled all of the requirements for being on the waiting list. I asked if there was anything else that I should be doing.....she seemed annoyed that I called her about this... she just said "no, i will look for your records to show up and then we wait" ugh!
So we wait....
--------------------------------------------------------------------
Friday, April 14, 2006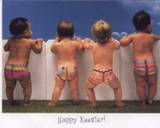 Wishing everyone a wonderful holiday weekend. We are currently having July weather (92 degrees yesterday) and will be that high again today. Taking Mason to his 1st Easter egg hunt this morning. Then it is off to get my hair done (YIPPEE!!). Tomorrow I turn 39 yrs old.....where in the world does time go??? Celebrating Easter and family birthdays on Sunday with my Dad so it will be a busy weekend.
TTC update: Had my annual exam on Thursday ( a requirement before we can go through another cycle) and have a mammogram scheduled for Monday (another requirement due to my "advanced maternal age") After the doc gets all my results then we are set to go....looks like this summer should be interesting!!!
--------------------------------------------------------------------
Tuesday, April 11, 2006
Good News!
Good news! RE's office called last night (at 6:30pm no less) to give us the results of Jeff's DNA testing. Seems that everything looks great! So it the doctor feels that our lack of fertilization was caused by my bad eggs

So when we do donor egg IVF we should have good fertilization! This call came as a total shock.....they told us that the results would take a month to get! my heart raced when I saw the doctor's office on caller ID! Of course my thoughts went straight to "OMG, they have matched us already" but still it was good news! Now lets hope the rest of the wait is as quick!!

MORE GOOD NEWS!
The lawyer just called to tell me that the "administrator" has accepted my "packet" and it is complete....they are sending it on to Bristol-myers for pay-out. Of course she said that they stated pay-outs would not occur before June....so we still have no idea when, but I now know that my part is totally complete and they have all the information!!!!
--------------------------------------------------------------------
Monday, April 10, 2006
Weekends do not last long enough!
Latest dilemma~ finally recieved a call back from the lawyers office (yeah, left 2 messages over 2 weeks ago). Suprisingly, she called me back on a saturday. Unfortunately I was out shopping with my teen. Here is the news...my case has been turned back to them due to some "deficiencies".....the administrator for the lawsuit is asking for pharmacy records for 5 yrs prior to my "illness.".....well #1, I had a hard time remembering where I got Rx filled over the years...I gave them all of the info I could. I decided to head to a few places today to see if I could get some records.....well here is the problem: KS law requires pharmacies to keep records for 7 yrs .......the administrator want my records from 1995-2000....the pharmacies that I went to today only have records from 1999 on......YOWZA! I went ahead and requested records (again) for the dates that the admin wants.....they will just have to accept it if I cannot get records prior to 1999......BTW~ I had already attained some records from 1997-2000 the first time they asked for the records. The lawyers office is going to talk to them about the dilemma and get back with me when she can. Also she stated that the "rumor" is payouts will come "maybe" in June.... ( YEAH, RIGHT)
--------------------------------------------------------------------
Thursday, April 06, 2006

We are officially on the list!!!! The RE nurse called on Friday(3/31) to tell us that they received our information and so we are on the list to be matched with a donor. Of course it will take about 4-6 mos (ARGH)...but at least we have a starting point! I have to go to the doctor and have a annual exam and even have a mammogram before we could proceed anyways......so I have scheduled the exam. I will have my GYN give me a referral for the mammogram. She gave me one last year but I blew it off, since I didnt feel it was needed yet (I was getting ready to turn 38).....
So we havent even been on the list a week yet and knowing it will take a minimum of 4mos.....why am I already feeling antsy??? I am such a fool! Well, to keep my mind off of things, I have stepped up my weightloss goals.....I am working out and joined a Women's walking group. hopefully there will be a lot less of me by the time we get the donor match!!!
--------------------------------------------------------------------
Sunday, April 02, 2006
word cloud?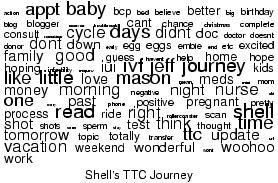 I found(and lost) a website that you can make a "word-cloud" out of your blog...I just punched in my blog address and it randomly took words out of it and made it.....How cool is that????? I lost it because I got interupted and now cannot remember where it was....when I find it again I will post a link.
--------------------------------------------------------------------