Tuesday, October 31, 2006
--------------------------------------------------------------------
Wednesday, October 25, 2006
29 wks!!
Another week down, WAHOO! of course, that means we are that much closer to little Teagan making her appearance.......uh,um...about 9 wks from now!!! Which means to the rest of you.....only 8.5 wks until Christmas!!!!!!!! Have you started your shopping????? Holy crap....I havent bought one thing yet!!!! So that I dont start stressing about the bedroom building, think I will start concentrating on SHOPPING!! I have 4 hours every thursday to myself (Mason goes to school), so that will now be my designated shopping day...
On the building front~ the lumber has been purchased! My brother is coming over to do the heating vents this week and hopefully this weekend we will get a few walls framed!!
Baby at 29wks:
Your baby now weighs about 3 lbs (1400g), measures about 10.8 (27cm) inches from crown to rump and measures about 17 inches (38cm) from head to toe.

Your baby is probably aware of your Braxton Hicks contractions, which you experience regularly, even when you do not notice them.

By this time, your baby is very active and you feel its movements frequently.

Your baby is still practicing breathing movements which have now become rhythmic.

Sometimes your baby gets the hiccups when she accidentally swallows amniotic fluid the wrong way.

She is getting fatter and plumper. On an ultrasound, you can see your baby's activities quite easily.

Your baby has periods of rest and periods of activity now. Your baby is probably most active when you are trying to rest.
--------------------------------------------------------------------
Thursday, October 19, 2006
Most wonderful experience!
I had my 3d/4d ultrasound experience today! It was so wonderful.....Little Teagan is absolutely beautiful!! She was so funny in the sono! Seems that she already loves to play with her feet. She had her feet above her head almost the whole time, grabbing them with her hand. Looked as if she was trying to get her leg into her mouth a few times! Oh, I just cannot wait to meet her in person!!!!
Here is some pics: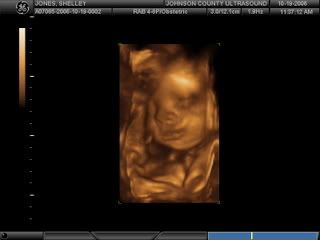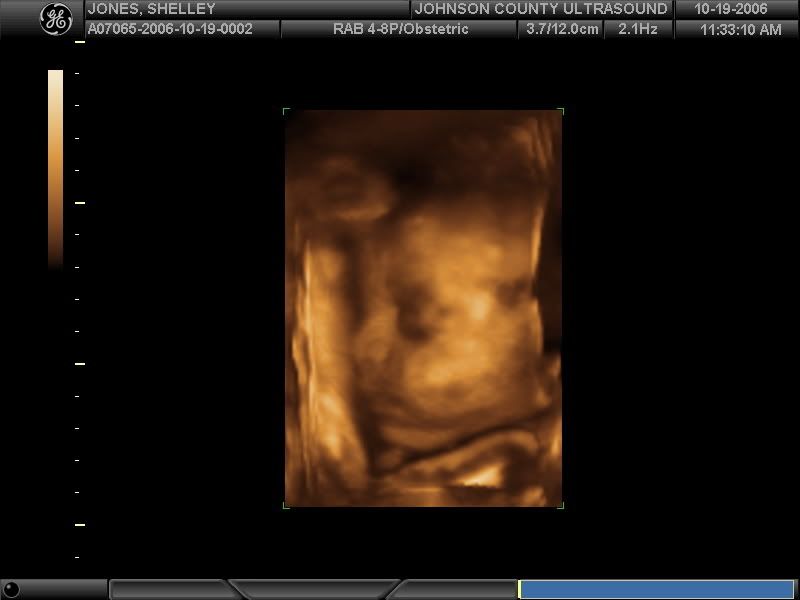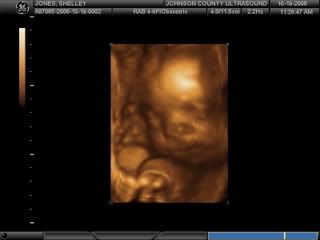 Here is Teagan grabbing her feet!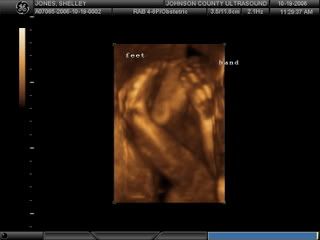 --------------------------------------------------------------------
Wednesday, October 18, 2006
28 wks!!!
Cannot believe that I have made it to 28 weeks!! Things are going to fly now.....with holidays and all the things we have to get done before Teagan comes, it is going to be fast! The pressure is really on now!! I need to start my christmas shopping and preparing for baby. Jeff wasn't happy with the large amount of money it is going to take for the room to be done, so he has decided to take on the job himself. This totally freaks me out....I love my husband, he is a wonderful provider & father. But as far as projects go......he is not the best at getting them done. I guess I just have to try and have some faith...
Here is what the baby is up to at 28wks:
Your baby now weighs about 2.7 lbs (1.2kg), measures about 10.4 inches (26cm) from crown to rump, and is around 16.7 inches (42cm) long. He is plumper and rounder, and his head and body are beginning to be in proportion.

Your baby now uses all of his senses. He can see, taste, recognize touch and the sound of your voice.

During the last trimester, your baby will receive antibodies from you through your placenta that will provide immunity from many diseases.

Your baby's adrenal glands are producing androgen-like substances. Androgens are normally male sex hormones, but in late pregnancy, when they reach the placenta they are turned into estrogen which in turn stimulates the production of prolactin in your body. Prolactin is the hormone needed for milk production. In this exchange, your baby is beginning to stimulate milk production in your breasts so that when he is born there will be food waiting for him.
--------------------------------------------------------------------
Friday, October 13, 2006
27 wk update...
Had my 27 wk appt on Wednesday......pretty uneventful. I had to take the Gestational Diabetes test, have not received the results yet. My doctor's office seems to operate on the the "no news is good news" plan, so I will assume everything is ok if I don't hear from them by monday. It is already time to go to the doctor every 2 wks! Since I am at 27 wks we are stretching the next visit out to 3 wks to put me at an even 30 wks. The doctor stated that we would schedule our C-section at next appt!!
I scheduled my 3d/4d ultrasound for next week! Cannot wait to see the baby!! I hope she cooperates, Mason didnt when I went for his. Mason kept his hand in front of his face the whole time, so we have to wait and see if Teagan will behave better! The package that I am purchasing puts in all on cd/dvd so I should be able to share the images online! (check in next friday to see them!)
I am still loving my van! Had it a whole week and we have put over 600 miles on it already!(ok, we went to the in-laws within 24 hours of getting the van)Still trying to figure out everything on it, but getting the basics down! Mason has figured out his "earphones" for the dvd player....it is so cute to look back at him with the over-sized headphones on his head! I will have to remember to put my camera in the car so that I can take a pic! We have had a major tempature drop over the past few days and my new favorite feature is the heated seats!! Haha!! tried them out last night!
Alexis is still hobbling around with her boot...seems to be doing ok. Next week she will be able to take it off at night.
We havent heard back from the contractor about Alexis'room yet, gonna make Jeff try to call him tonight. Would really like to get things rolling on that. The plan is to get things moved out of their this weekend (well most of the stuff).
--------------------------------------------------------------------
Friday, October 06, 2006
My new van!
It's official.....as a mom of 3 it is required to own a mini-van....I got mine last night!! We studied mini-vans for months and finally determined that the Honda Odyssey was the van for us! I finally received my long awaited settlement funds and couldnt wait to spend some of it! I plan on spending my morning trying to figure out how to work all of the gadgets!!! Who wants a ride?????
It is ocean mist blue with black leather interior

Check out the cool navigation system and back-up camera!

Less than 100 miles on the odometer....well until I get behind the wheel today!

--------------------------------------------------------------------
Thursday, October 05, 2006
Princess #1
I can't believe that I didnt post these pics yet...oops! Here is Alexis all dressed up for homecoming....notice the heels on her shoes, not so good for a girl with a stress fracture(well we didnt know her ankle was broken...oops again!) (she wore them for pics & dinner, then took them off at the dance)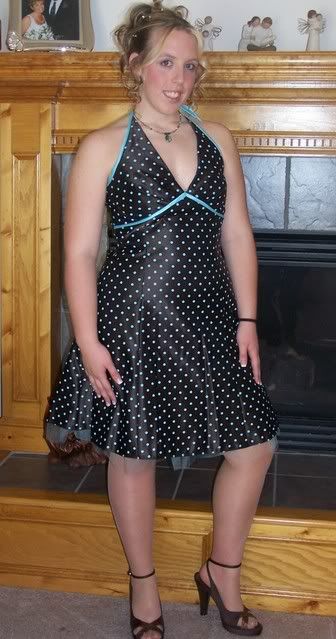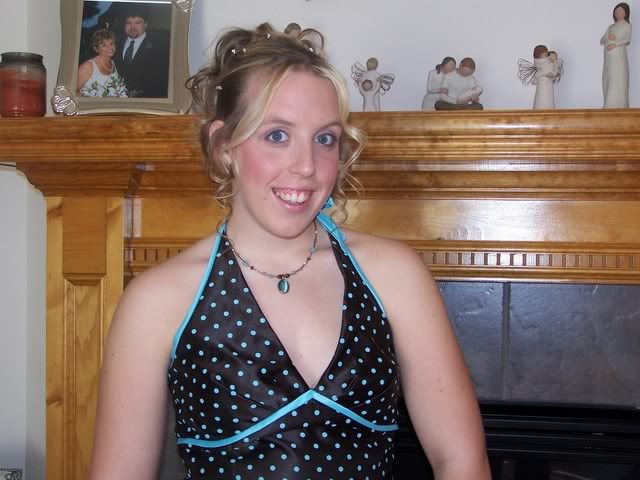 --------------------------------------------------------------------
26 wks already!
Yesterday I was officially 26 wks pregnant....it seems unreal! Although, I am feeling very pregnant these days......getting hard to tie my shoe,find a comfortable position at night and people have started saying things like "looks like you are gonna have that baby soon".......umm, well I have 12wks until my c-section! 12 weeks.....that is not a very long time! There is soooo much to do and I am starting to feel a little overwhelmed!
A contractor did come over and discuss the basement yesterday (yeah!) He will give us a bid sometime next week...We have to build a bedroom for Alexis, so the baby will have a bedroom. He will also be turning our half bath into a full bath downstairs...so our next project will be moving all of the junk out of the basement!
Other news~ took alexis to an orthopedic surgeon yesterday....her trampoline injury hasnt healed yet (been 2 months!)They took x-rays and still could not see why she was still in pain. They sent us out for an MRI and we got the results shortly after. She has a stress fracture on the bone between the tibia and her heel. She has to wear a lovely "boot" for about a month. Hopefully she will be healed by the time Club volleyball tryouts occur in mid-november.
Here is what the baby is up to at 26 wks:
Your baby weighs more than 2 lbs (1000g), measures 9.6 inches from crown to rump (24cm) and its total length is about 15.3 inches (34cm). If your baby were born now, she would have about an 85% chance of surviving. Nonetheless, your baby still needs another 13 weeks of in utero development to be considered full term.

Your baby's eyes, no longer fused shut, are now open.

Your baby's skin still has a very wrinkled appearance, but it is protected and nourished by the covering of vernix, a waxy coating that keeps the skin supple.

Your baby looks almost like a full term baby, but is still much thinner and smaller than she will be at birth.
--------------------------------------------------------------------
Tuesday, October 03, 2006
garage sale score!
A friend has a 2 yr old daughter (one month younger than Mason) and is having a garage sale this coming weekend. She allowed me to come over a week ahead of time and get some clothes for the girl!!! I got lots of sleepers and outfits through 6mos old. Had to make room in my closet since she doesnt have a room of her own yet! (update on "the room": a contractor is meeting Jeff on Wednesday to give us a bid on building the teen room!! wahoo!!!)

--------------------------------------------------------------------