Thursday, February 21, 2008
Sleet, Sleet, and more sleet......
That is the weather forcast today. UGH! School cancelled....double ugh!
where is spring?????
--------------------------------------------------------------------
Monday, February 18, 2008
Sorry, havent blogged lately!
Been a crazy week at our household. Alexis had surgery to remove her adenoids (for the 2nd time) on Thursday(great valentines for her). She has recovered nicely and is back to her perky self. I have been on a preschool search and also trying to figure out what we are going to do for Mason's 4th birthday......it is coming way too fast! It seems that searching for a preschool is almost as equivalant to selecting a college (ok,not really but close!) We attended an open house at one school today and we have to visit 2 others this week. A decision has to be made because everywhere is filling up fast!! I am sure that I am making this way more complicated than it should be.....if it were up to Jeff, he would just pick the closest, cheapest place.. Oh well I will figure it out soon.
edited to add: at dinner tonight discussed preschool situation, as predicted, Jeff says "which one is cheapest? I told him, he said ok, go with that one"......argh!!!!
On another note....Jeff and I met with a deacon in our(my) church on Sunday. I say "my" because I am the one who is catholic and usually attend church by myself. anywhoo......this was the first step in having our marriage blessed by the church. We need to meet again with either the Deacon or the priest one more time, then we will schedule a time to have the "ceremony". Pretty exciting stuff.
ok, off to figure out something to make fo dinner!
--------------------------------------------------------------------
Wednesday, February 13, 2008
Happy Valentines Day!!!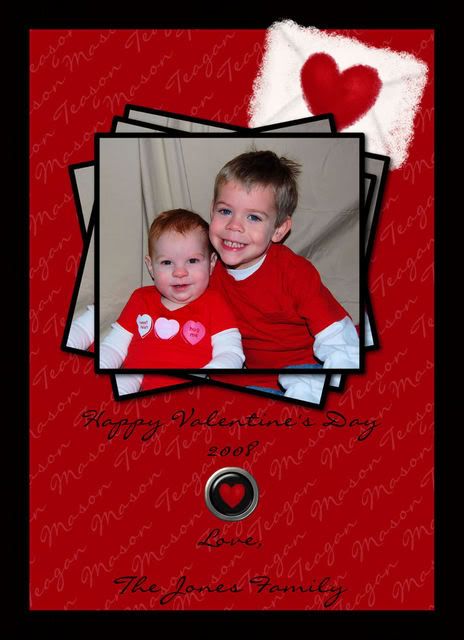 --------------------------------------------------------------------
Monday, February 11, 2008
Happy Birthday, my dear old friend.
Today is the birthday of a friend of mine....a friend that I dont know anymore, a friend that I have lost touch with, a friend who will always hold a special place in my heart. I really dont know when or why we lost touch.....our lives were just in different places, we forgot to call each other, we didnt work at the relationship. I tried, honestly...even when I didnt know phone numbers, I mailed christmas letters every year to the last known address, each year asking for her to contact me. One year, the mail came back with NO KNOWN ADDRESS. It makes me sad that someone who was so special to me doesnt know my 2 youngest children, she doesnt know what a beautiful young lady Alexis has grown into, and she doesnt know that I finally have found happiness with a wonderful man. I hope that she does know that I think of her all of the time......I am hoping that one day she and I will see each other again. I miss my friend.
Happy Birthday Jonni Renee!
--------------------------------------------------------------------
Sunday, February 10, 2008
What a difference a few weeks can make!
Teagan has exploded in her verbal skills recently....or maybe it is just that mommy and daddy have finally figured out that when she is jabbering, there is a reason to it. In the past week, I have heard the following things come out of Teagan's mouth.....all in context!
1. Dog (pointed to a picture of a doggy, and did the sign the same time)
2. Go bye (she repeated this after daddy asked her if she wanted to go bye-bye)
3. Thankyou
There are many more but I cant seem to remember all right now. She only says it once, so you really have to be paying attention, but she is definetly communicating with us!!!
She is still not walking....I am somewhat torn about this. In one instance, I want to keep her my baby for as long as possible, but in another way...I feel sad when I see all these other babies close to her age (and younger) walking all over the place....
Dont get me wrong, I am not worried about it at all......heck, Mason didnt walk until he was almost 16mos old, now the boy doesnt know "walk", he only runs!
Guess we will see what the next few weeks bring!
--------------------------------------------------------------------
Monday, February 04, 2008
a glimpse of spring.....
Today was freakishly warm.....kids and I were out and about, so we went to local outdoor shopping center. Here are some pics of our fun! (BTW it is supposed to snow tomorrow!)