Tuesday, April 29, 2008
Cant we just skip the teen years?
Having some major issues with the teen.....not acting out in the rebellious sense but has other things going on. This just sucks!
--------------------------------------------------------------------
Thursday, April 24, 2008
Flashback!
A "friend" of mine has "flashback wednesdays" on her blog. Another friend of mine was reminiscing about how life was different 2 yrs ago.....so it got me thinking. I went back and read my blog from 2 yrs ago! Very interesting, since at that time we didnt know we were pregnant with Teagan and had no idea how our lives were about to change!!
Here is my entry from April 25, 2006:
Tuesday, April 25, 2006

I am not a very patient person.......it has been 1 month since we were placed on the waiting list, the list that is supposed to take 4 to 6 mos, 3 mos until we can even expect anything....yet I cant help but drive myself crazy! I was given a list of requirements that we needed to have done before we could proceed when it comes time. Annual gyn exam, mammogram and Jeff's genetic testing~ ALL DONE! the only thing that I still need to do is have my gyn doc send over the results to the RE.....that will happen at the end of this week (they need time to have all results in my file). If I was this efficient with the rest of my life, I would be at a decent weight, my house would be clean, and our finances would be in perfect order.......for some reason, I cant apply my efficiency to the other aspects of my life......maybe I need the RE to tell me: You need to lose 50lbs, have a clean house and no debt before we can proceed......hmm, maybe that is the motivation that I need.

I have been trying to lose weight, something that is not very easy for me.......I have been working out 2-3 times a week, walking 2x a week.......and yesterday I started (should I dare say it) a "diet"...it is the curves 6 week diet, (err )life eating plan......hopefully I will have some "progress" to report over the next several weeks.

Alexis starts softball tonight, I like watching her sports...games dont start until end of May. She is a little nervous, she has played softball on the same team since Kindergarten (7 out of 12 girls were from the original k-garten team last year!)This year she is going to be playing on a local team (since we moved last summer), we dont know who is on the team (hopefully she will know someone), we dont know the coach and we dont know the league. I am hoping that it is still a fun season for her. School will be out in just a month......wow! She is going to be pretty busy this summer, so my plans of a babysitter are pretty nil.

Here are her plans for summer:

weights and conditioning Mon-thurs~ 9-11:30

Open gym Mon & Wed 11:30-1pm

Volleyball camp June 12-16~ 12:30-3:30

Drivers Ed starting at end of June 7-9am (mon-fri) for 3 weeks, plus a few afternoons through the week of driving time.

Softball

Plus a few single daytime volleyball camps spread out over the summer.


posted by Shell at 9:03 AM
Hmmm.......very different indeed, yet still the same!!! LOL! My house is still a mess(but now I have the messes of a 4yr old and a 1yr old, so 2x the mess), I still need to lose weight (although as of today I am down 13lbs since March 1st and almost to my Pre-mason weight!!!!),and well....there is still plenty of debt! The biggest difference is probably that I finally feel complete. I was so desperate back then to have a baby, so empty...it literally consumed our lives. We have truly been blessed!!!
--------------------------------------------------------------------
Tuesday, April 22, 2008
Been a long boring week....but here are some new pics
These are pics I took on Manual mode with my camera. It was a homework assignment for my photography class that I am taking.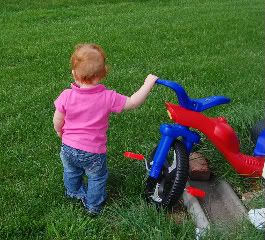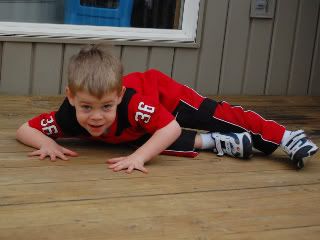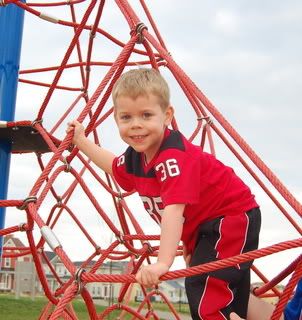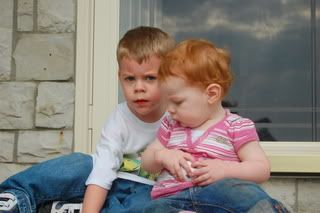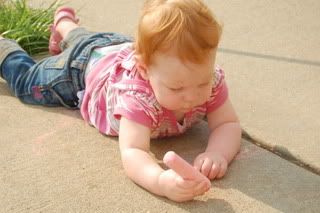 --------------------------------------------------------------------
Wednesday, April 16, 2008
STUBBORN! ;)
Teagan has only taken a few steps since Sundays victorious walking video...still has no interest in it.
oh, and on a side note:
Yesterday was my 41st birthday. on sunday, Jeff & Alexis both gave me gifts, unwrapped, no card......but I loved them anyway..stuff for my camera. Well on my actual birthday, yesterday (just 2 days after receiving my gifts)... my husband forgot that it was my birthday....totally blew it off. I saw him in person 2x during the day, plus talked to him on the phone over 3x...each interaction I waited for him to say 2 simple words "Happy Birthday"....they never came out of his mouth. Needless to say, I was (am) hurt. I want to acknowledge that I told Mason it was my birthday first thing in the morning.....and 20 minutes later he came up to me and said "Happy Birthday mom!"....he got to go to the donut store for that one!!!!!
--------------------------------------------------------------------
Sunday, April 13, 2008
And she's off.........
Today, Teagan finally started practicing walking!!! she is 2 weeks away from turning 16mos old.....just like Mason was!! hoping we will have a fulltime walker in the next week or so!!
--------------------------------------------------------------------
Tuesday, April 08, 2008
NCAA Champions!!!
ROCK CHALK JAYHAWK!
They did it!! I almost had a heart attack watching the end of the first half....but they tied the game with 6 seconds left!!! They won in OT!! I was there in 1988, the last time they won, and this 08 win brings back a flood of memories!!!!
To all my friends who celebrated with me in 88......I hope you have as wonderful memories as I do!! To the KU students of 08....you will remember this your entire life!! Enjoy!
Go KU!!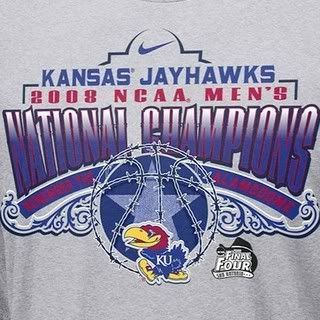 --------------------------------------------------------------------
Saturday, April 05, 2008
ROCK CHALK JAYHAWK!!!
Wahoo!! Jayhawks moving on to the championship game!!! oh the memories......I was attending KU the last time Ku won the championship in 1988!!!!!!! Go KU!!!!!
--------------------------------------------------------------------
Friday, April 04, 2008
The power of the internet
I love reading blogs, there are some really creative people in this world and of course I love seeing pictures of happy families, listening to stories of other mothers, etc. Today I was reading a friends blog, in it, she posted a link to a story of a little girl who is about Teagan's age. This little girl's name is Emily. She is 16mos old and has red hair....sound familiar? Could be Teagan. this little girl and her family are going through a parents worse nightmare. I was touched by the story because it could be my child, it could be my friends child, so that makes Emily's story important to me. I feel that the more people who read this story, the more prayers she will receive. The power of prayer paired with the internet has endless possibities. I am praying for Emily. I hope that you will be touched by her story too.
Here is the link:
Original story
Emily's story
Today's update
update
--------------------------------------------------------------------
Tuesday, April 01, 2008
March Madness!
Our beloved Jayhawks have made it to the final four!!! We are anxiously awaiting saturdays game!
With fans like these, how can they lose????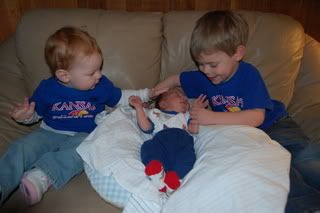 Go Jayhawks!!
--------------------------------------------------------------------